Price
$600
Event date and time
Friday 3 - Sunday 5 May 2024
9.00am (Day1) to 1.00pm (Day 3) AEDT
Location
CSIRO Parkes Observatory
585 Telescope Rd, Parkes NSW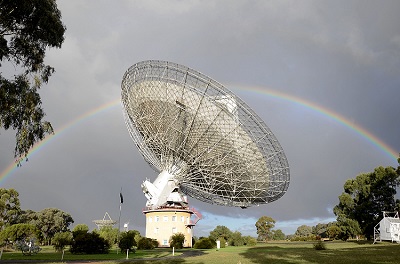 CSIRO, Space and Astronomy's three-day Astronomy from the Ground Up! teacher workshop at Parkes Observatory, home of the iconic Parkes radio telescope, Murriyang, will be held on Friday 3 – Sunday 5 May 2024.
Participants will enhance their confidence and skills in the astronomical concepts required to teach high school or primary science. They will learn about some of the latest advances and discoveries in astronomy and space, how to run a viewing night, meet astronomers and astronomy education experts, tour the telescope and learn how to incorporate real data in the classroom. No background or training in astronomy is required for participation in this workshop.
Dates and Times
Event date:

May 2024
03 May - 05 May 2024
CSIRO Parkes Observatory
9.00am (Day1) to 1.00pm (Day 3) AEDT
585 Telescope Rd, Parkes NSW
Get Directions
Contact
More information
The workshop registration fee is $600 incl GST which includes workshop activities, a resource pack and morning teas, three lunches and dinners on Friday and Saturday nights.
Note that the workshop fee does not include accommodation or travel.
Cancellation after payment one week or more before the workshop incurs a $50 fee. Refunds for cancellation closer to the workshop is at the discretion of the workshop organiser and not guaranteed although another teacher from the same school can substitute at no penalty.
For more details and to register please visit: https://www.atnf.csiro.au/outreach//education/teachers/workshops/afgu.html
Registration closes Friday 13 April but places are limited so book soon.