Price
$100
Event date and time
Thursday 27 Jul 2023
8.30am to 4.30pm (ACST)
Location
Event Centre, George Brown Botanic Gardens
Gilruth Ave & Gardens Rd, The Gardens NT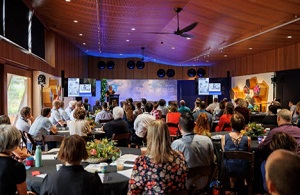 Darwin Living Lab Symposium 2022
Overview
The focus of the 2023 Darwin Living Lab Symposium is to share knowledge of best practice examples of heat mitigation and innovative approaches to cooling and improving liveability in cities and regions from across northern Australia.
Northern Australia encompasses a diverse range of climate zones, settlement types and cultural contexts. However, capturing and sharing knowledge across these diverse contexts on innovative approaches to addressing liveability challenges and responding to climate change risks can help to identify opportunities for improved approaches that can be adapted to the local context.
Exploring Darwin challenges in detail
The Symposium will also seek participant input and local knowledge on the latest city-wide data for Darwin relating to key challenges in sustainability, liveability and resilience:
Reducing the urban heat island
Creating healthy outdoor environments
Water for cooling the city
Sustainability, towards net-zero
Improved indoor liveability.
Dates and Times
Event date:

Jul 2023
Thursday 27 Jul 2023
Event Centre, George Brown Botanic Gardens
8.30am to 4.30pm (ACST)
Gilruth Ave & Gardens Rd, The Gardens NT
Get Directions
Contact
More information
A detailed program for the Symposium with keynote speakers and session details will be available in coming months on the Darwin Living Lab website.
The Darwin Living Lab was established to foster improvements in the liveability, sustainability and resilience of the city. The Darwin Living Lab is an initiative under the Darwin City Deal and is a 10-year collaboration between CSIRO and the partners of the Darwin City Deal: Australian Government, Northern Territory Government and the City of Darwin.