Price
Free
Event date and time
Monday 1 - Friday 5 May 2023

Location
CSIRO Werribee
671 Sneydes Road, Werribee VIC 3030
The Retort Supervisors Certification Course (RSCC) presents the theoretical basis underpinning thermal processing technologies for the manufacture of low-acid heat processed foods and provides practical training in the operation of retorting systems for processing cans, glass, foil and plastic containers.
Dates and Times
Event date:

May 2023
01 May - 05 May 2023
CSIRO Werribee
671 Sneydes Road, Werribee VIC 3030
Get Directions
Contact
More information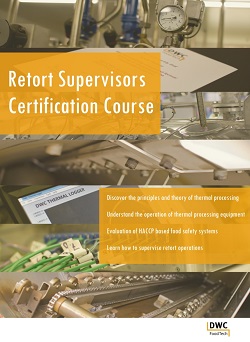 The course provides:
Theoretical and practical understanding of those factors important in the selection and delivery of thermal process schedules.
An applied understanding of microbiological concepts and microorganisms or relevance to food safety and commercial sterility.
Experience and understanding of the operation of over-pressure and steam retorts, UHT systems and other heat treatment processes.
Awareness of the application of HACCP in the production of heat processed packaged foods.
Experience and understanding in the selection and use of packaging materials.
Awareness of the factors affecting the pressure generated in sealed containers during thermal processing.
Further info/registration contact: DWC FoodTech via https://dwcfoodtech.com.au/training-solutions/rscc-registration-au/
Find out more