Price
Free
Event date and time
Monday 8 - Friday 12 May 2023

Location
CSIRO Werribee
671 Sneydes Rd, Werribee, VIC 3030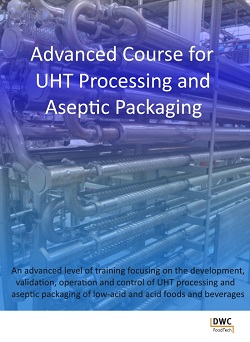 The Advanced Course for UHT Processing and Aseptic Packaging has been developed in concordance with regulatory frameworks for those involved with the technical development, evaluation, validation, operation and control of UHT processing and aseptic packaging of low-acid and acid foods and beverages to meet compliance with international standards.
The course has been specifically designed for industry to address technical challenges associated with UHT processing and aseptic packaging, and provides an advanced (tertiary) level of training requiring participants to be comfortable performing mathematical calculations.
The course is also legislated by the Ministry of Primary Industry (MPI) under "Animal Products Notice: Specification for Products Intended for Human Consumption" and "Food Notice: Requirements for Food Control Plans and National Programmes".
Dates and Times
Event date:

May 2023
08 May - 12 May 2023
CSIRO Werribee
671 Sneydes Rd, Werribee, VIC 3030
Contact
More information
The format of the course involves four days of lectures, practical demonstrations and tutorial sessions which will be followed on the fifth morning by two examinations. The first examination will be closed-book and cover the theory underpinning UHT processing and aseptic packaging; the second examination will be open-book and will require a series of calculations and written discussions relating to the course material. Those who attend all sessions and successfully complete both examinations will receive a formal certificate and their names will be forwarded to national regulatory authorities as is appropriate.
Find out more