Price
Free
Event date and time
Thursday 29 Sep 2022
11.30am to 12.15pm AEST
Location
Online virtual event
Login details will be emailed to registrants
Join us for a free webinar to learn more about standards for plastic waste and recycling.
Australian and international standards for managing plastic can help us reduce waste at all stages of a product's lifecycle. This covers plastics design, manufacturing, recycling and reuse.
Standards are important guidelines and codes of practice. They set parameters for the design of plastic items, such as how and what it's made of, increasing recycled content, and compostability.
We mapped what standards exist, and where there are gaps. This reveals opportunities for new standards that can reduce plastic waste.
We'll be joined by Standards Australia to find out how we can implement standards across the plastics supply chain to help boost our circular economy and turn plastic waste into a resource.
Dates and Times
Event date:

Sep 2022
Thursday 29 Sep 2022
Online virtual event
11.30am to 12.15pm AEST
Login details will be emailed to registrants
Contact
More information
Speakers
Qamar Schuyler, CSIRO Ending Plastic Waste Mission, Best Practice and Standards Lead
Qamar Schuyler is a marine ecologist with more than a decade of experience in marine debris-related research. She has studied the factors and processes governing the distribution of debris in the terrestrial environment, how debris moves from land to sea, the risks to wildlife from interactions with marine debris, and the effectiveness of policy solutions at reducing debris in the environment. Her focus for the Ending Plastic Waste Mission is leveraging standards and best practices to reduce plastic waste.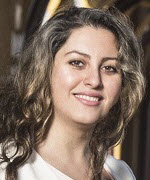 Fariba Ramezani, Research Analyst, Standards Australia
Dr Fariba Ramezani conducts high level research and analysis and delivers recommendations and thought-provoking insights. Her research area includes standardisation, environmental economics, circular economy and renewable energies. She participates in the Standards Australia Circular Economy Advisory Group to identify areas that standards can support Australia's transition to circular economy. Her research background also includes economic impact analysis, market analysis, infrastructure, and tourisms.
Find out more