Price
Free
Event date and time
Wednesday 30 Nov 2022
4.00pm to 5.00pm AEDT
Location
Online virtual event
Login details will be emailed to registrants
Join us to learn about The Secrets of Healthy Ageing and the Secrets of a Healthy Brain.
Professor Cassandra Szoeke is one of our CSIRO Alumni members and director of the Healthy Ageing Program at the University of Melbourne.
CSIRO Alumni is hosting a series of online talks with Professor Szoeke to delve further into the Secrets of Healthy Ageing. Expert guest speakers will join us for each topic and Peggy Stasinos, Director, Business Development, Biosecurity at CSIRO will guide the discussion.
Dates and Times
Event date:

Nov 2022
Wednesday 30 Nov 2022
Online virtual event
4.00pm to 5.00pm AEDT
Login details will be emailed to registrants
Contact
More information
The Secrets of a Healthy Brain
Professor Szoeke will deliver a talk about healthy brain ageing. She will then be joined by Louise Bennett for a cutting-edge segment on aromatherapy oils and brain cells.
Peggy Stasinos will host the event and guide the discussion, with a Q&A session at the end. The audience are invited to submit their questions online through the Webex portal.
This will be an online event hosted on Webcast. Once you register, you will receive an email with the link to attend the event.
Professor Cassandra Szoeke
PhD, FRACP, MBBS BSc (Hons), GAICD, AMA, AFAIDH. Centre for Medical Research, Royal Melbourne Hospital. Healthy Ageing Program, University of Melbourne
Professor Cassandra Szoeke is the principal investigator of the Women's Healthy Ageing Project, the longest ongoing study of women's health in Australia, and author of the book Secrets of Women's Healthy Ageing. She is a general physician, consultant neurologist, professor and multi-award winning clinical researcher; currently Director of the Healthy Ageing Program at the University of Melbourne.
She has several hundred published articles in the medical literature, several book chapters in medical textbooks and has worked in the Commonwealth Science Industry and Research Organisation, Public Hospital system and as Non-executive Board Director of Health Services. In addition to her medical qualifications and fellowship in the Royal College of Physicians she has a BSc with Honours in Genetics and PhD in Epidemiology, and her postdoctoral studies at Stanford University CA, focused on public health and policy. She led the neurodegenerative diseases and brain health program at CSIRO and then became Clinical Consultant to the CSIRO Preventive Health Flagship. She is an associate Fellow of the Australian Institute of Digital Health and Graduate of the Australian Institute of Company Directors.
She has held many significant academic positions and teaching roles for academic institutions and specialist colleges and is recognised internationally for her contributions to healthy ageing research holding Australian clinical representative role in the world-wide Alzheimer's Disease, Clinical lead on the Global burden of Dementia and is currently on the executive of the International Women's Brain Project as lead of the Asia Pacific node. She has worked in the public and private health system in clinical, leadership and governance roles as board director appointed by the state health minister including holding roles as Chair of the Q&S and Education, Training and Research board subcommittees. She has contributed to development of national health policies and currently sits on the Council of the Australian Medical Association (Vic), was appointed to Medical Panels by the Department of Health (Vic) and is the Chief medical officer for the Australian Healthy Ageing Organisation.
Professor Louise Bennett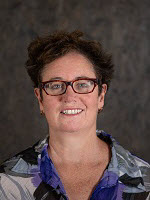 Louise Bennett is Professor of food chemistry at Monash University with interests in the health and physical-functional properties of foods. These research interests span multiple disciplines and projects that seek to transform foods into dietary tools that promote value-addition, nutritional security and therapeutic opportunities. Professor Bennett is the Director of the Monash Master of Food Science and Agribusiness and Co-director of the industry-facing, Monash Food Innovation. Prior to joining Monash University in 2017, Professor Bennett was a Senior Principal research scientist at the Australian national research organisation, CSIRO, working on researching and supporting commercial translation of food innovations. Professor Bennett's research specialisations are in the spaces of proteins and phytonutrients and is supported by local and international industry funding. Professor Bennett has authored >92 publications and 1 patent, with a h-index of 27.
Hosted by the CSIRO Alumni network
The CSIRO Alumni network now has over 4,600 members and we encourage former staff to join and reconnect with one another. Cassandra highlights her work with one of our other alumni, Dr Peter Clifton (the well-known co-author of the CSIRO Total Wellbeing diet books) who was part of the Scientific Advisory for 'The Secrets of Women's Health Ageing'. They worked together with Peggy Stasinos within the CSIRO Preventive Health Flagship. As Cassandra says, "CSIRO forged friendships never die!"
Agenda
4.00
Welcome and introduction
4.05
Presentation
4.40
Q&A and discussion
5.00
Close