Price
$300
Event date and time
Tuesday 15 - Thursday 17 Nov 2022

Location
CSIRO Radiophysics laboratory
Corner Vimiera and Pembroke Rd, Marsfield NSW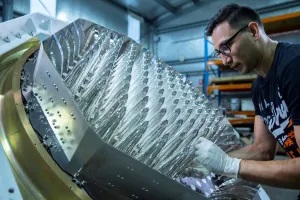 The next International Phased Array Feed (PAF) & Advanced Receiver Workshop will be held at CSIRO in Sydney from Tuesday 15 to Thursday 17 November 2022.
The workshop will be held on-site at CSIRO's Radiophysics laboratory in Marsfield, Sydney.
The workshop presents an opportunity for participants to meet face-to-face to network and engage in informal discussions relating to PAFs and Advanced Receivers.
A dinner and three hour Sydney harbour cruise is included with your registration, leaving from Darling Harbour at 7:00pm on the Wednesday night (Nov 16). We will provide bus transport to the boat from Marsfield and then back again (subject to numbers). An additional partner ticket for this dinner cruise can be added during registration for an additional $139.
Suggested Topics:
We invite proposals to speak on topics related to Phased Array Feed & Advanced Receiver technology and applications, including:
EM & system design of PAFs & advanced receivers
PAFs & advance receivers
Analog and mixed-signal electronics
Beamforming systems and calibration
Correlator & processing systems
System integration & verification
Imaging and lessons learned
RFI mitigation
New & future technologies and projects
CASPER Integration
One-page abstracts should be provided by Friday 5th August 2022. Notification of accepted contributions will be sent by 24th August 2022.
The abstract template can be found here.
Pricing
Registration

Registration includes one Sydney harbour cruise dinner
Dates and Times
Event date:

Nov 2022
15 November - 17 November 2022
CSIRO Radiophysics laboratory
Corner Vimiera and Pembroke Rd, Marsfield NSW
Get Directions
Contact
More information
Organising Committee:
Steve Barker, Stephanie Smith, Ken Smart, Carmel Hartmann
Technical Committee:
Alex Dunning, Gundolf Wieching, Karl Warnick, Jin Chengjin
Covid-19 information:
If an individual has tested positive or is exhibiting symptoms of COVID-19 or any other contagious illnesses they are not permitted to attend a CSIRO's site. Please review the updates to Australia's immigration and border arrangements during the COVID-19 (Coronavirus) pandemic before registering.
PAFAR Workshop 2022: Code of Conduct
The Chair and Organising Committees of PAFAR Workshop 2022 value your attendance and are dedicated to providing a discrimination- and harassment-free conference experience for all delegates, regardless of gender, gender identity or expression, age, sexual orientation, ability, physical appearance, race, ethnicity, religious affiliation, or technology choice.
Harassment includes: offensive or exclusionary comments, jokes or images, sustained disruption of talks or other events, inappropriate physical contact, unwelcome sexual attention or innuendo, deliberate intimidation, stalking and photography or recording of an individual without consent.
By registering for PAFAR Workshop 2022 you are agreeing to abide by this Code of Conduct:
We ask that you behave professionally at all times.
Harassment or discrimination is not appropriate in any conference venue, including talks, workshops, social events and online media.
All communication should be appropriate for an audience that includes people of many different backgrounds.
Please be considerate and respectful of fellow delegates and Conference organisers. Do not insult people or put them down and ensure that you critique ideas rather than individuals.
Individuals found to be in violation of this Code of Conduct, or of making allegations in bad faith, will be subject to disciplinary action. Such action may include: a verbal warning, expulsion from the conference without refund, or reporting of inappropriate behaviour to an employer.
If you are being harassed, notice that someone else is being harassed, or have any concerns relating to harassment or discrimination, please contact a conference organiser – look for the identifying badge. Contact details will be in the delegate satchel.
Workshop organisers are happy to help participants contact hotel/venue security or local law enforcement, provide escorts, or otherwise assist those experiencing harassment to feel safe.
We expect participants to follow these rules at workshop venues and conference-related social events.
Find out more