Price
$700
Event date and time
Tuesday 20 - Thursday 22 Jun 2023
08:00-17:00
Location
Symposium: Beaumonde on the Point
306 Riverside Drive, East Perth WA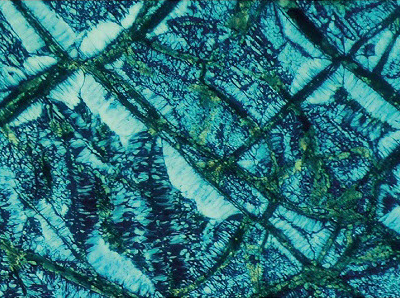 Image: Photomicrograph of mesh-textured serpentinite, host rock to the nickel sulfide deposit at Mt Keith, WA, showing incipient carbonate replacement along veinlets. Field of view ~2 mm wide. Courtesy of Steve Barnes.
Objective
Locking carbon in minerals can no longer be discounted as a viable carbon capture/storage solution for mitigating climate change. Mineral carbonation is a naturally occurring geological process that contributes to reducing emissions by permanently mineralising carbon. Diverse geology and extensive coastlines position Australia to be a leader in withdrawing atmospheric carbon through mineral carbonation, but acceleration of this natural process to achieve efficient, high-volume capture remains a scientific- and engineering-challenge. The Locking Carbon in Minerals CES (the symposium) will spark discussion on the fundamental research required and foster collaboration with our industry, university, and government partners, which are critical overcoming global challenges towards reaching net-zero.
Limited spaces available.
Pricing
Attending both days

20-21 June 2023

Attending Day 1 only

20 June 2023

Attending Day 2 only

21 June 2023

Student or Early-Career*

20 and/or 21 June 2023
Dates and Times
Event date:

Jun 2023
20 June - 22 June 2023
Symposium: Beaumonde on the Point
08:00-17:00
306 Riverside Drive, East Perth WA
Get Directions
Contact
More information
Format, Location & Times
20-21 June 2023: Symposium Days 1 and 2, and Symposium Dinner
Time:

08:00-17:15

Location:

Beaumonde on the Point
306 Riverside Drive, East Perth WA 6004

Note: The Symposium Dinner will be held at Beaumonde on the Point on 20 June 2023 from 18:30-20:30.
22 June 2023: ECR Networking & Workshop
Programme & Themes
The Locking Carbon in Minerals CES will showcase a diverse range of keynote and invited speakers from industry, academia, and government, representing the international research- and industry community on mineral carbonation. The symposium will focus on new mineral carbonation solutions to mitigate and adapt to a changing climate and on the status of mineral carbonation technologies in the following themes:
Theme 1 - Setting the scene: Mineral carbonation as a pathway to tackle climate change, Australian geology, natural systems.
Theme 2 - Ex-situ mineral carbonation, geochemistry, mineralogy, and industry activities.
Theme 3 - In-situ mineral carbonation and engineering challenges.
Theme 4 - Future focus, breakout sessions, and collaboration opportunities.
Confirmed keynote speakers:
The detailed Symposium Programme is being finalised and will be shared soon.
Goals & Outcomes
Develop new relationships and strengthen existing connections between individuals and organisations working in mineral carbonation within Australia and globally,
Highlight existing challenges across the international community, denoting where Australia's existing capability should focus development efforts to elevate mineral carbonation to an industry-ready solution.
Event Contacts & Further Information
Renee Birchall - renee.birchall@csiro.au
Coralie Siegel - coralie.siegel@csiro.au
Yuan Mei - yuan.mei@csiro.au
* Students: Current enrolled students in a university in Australia or overseas; Early Career: postdoctoral researcher or researcher within 3 years after their last degree.