Price
$110
Event date and time
Monday 23 - Thursday 26 May 2022
1.5hr plenary sessions every day
Location
Online virtual event

This event has occurred. A Threads and Opportunities Symposium 2022 Report is now publicly available.
It is possible to view the symposium recordings via post-event access at $50+gst or $25+gst student/concession; recordings will be accessible for 1 year post event. If you are interested in accessing this symposium, please email threads2022@csiro.au.
Humans depend on fibre – for clothing, and more. Sustainable fibres and textiles are a global priority for closing the loop on resource-flow and energy use. This is also a priority due to the impacts on the health and livelihoods of millions of people globally, and the lands and waters they depend on. In Australia there is now a growing shift towards more circular systems across several sectors and value chains. Science and technology are central to this change, with connected humans working together for positive solutions.
This collaborative symposium's goal is to help accelerate Australia's science and innovation towards sustainable circular fibres. The "Threads and Opportunities Symposium: science engineering sustainable fibres, for closing the loop in Australia" is cross-connecting, multidisciplinary, and catalytic in exploring science solutions to meet the challenge.
A 100% ON-LINE event
Each day there will be:
1.5hr plenary sessions
1hr RSVP-capped interactive "high-resolution" sessions
Pricing
Full registration

Registration is inclusive of all plenary sessions, any optional RSVP-capped interactive sessions, and access to plenary session recordings up to 1 year post event.

CSIRO Staff and Affiliates
Dates and Times
Event date:

May 2022
Monday 23 - Thursday 26 May 2022
Online virtual event
1.5hr plenary sessions every day
Contact
More information
Program at a glance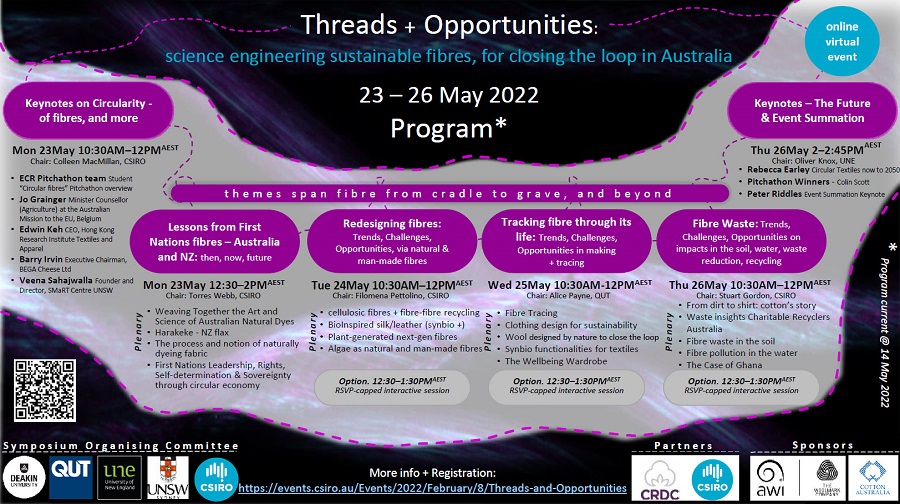 PLENARY THEMES AND SPEAKERS
KEYNOTES ON CIRCULARITY OF FIBRES AND MORE. Mon 23 May 10:30am-12:00PM AEST
Colleen MacMillan, Chair, CSIRO Agriculture and Food
Circular Fibres High School and Tertiary Student Pitchathon Overview. Xiaoqing Li CSIRO & Madeline Taylor QUT (Early Career Researchers)
Textiles and Circularity: the EU Perspective. Jo Grainger, Minister Counsellor Agriculture, Australian Mission to the EU
Disruptive Applies Research in a Global Crisis. Edwin Keh CEO, The Hong Kong Research Institute of Textiles and Apparel
Bega Valley Case Study. Barry Irvin AM, Executive Chairman, Bega Cheese Limited
A smart vision for a sustainable future: SMaRT technologies and MICROfactories™ creating sustainable materials and products from waste resources. Professor Veena Sahajwalla, Director of Centre for Sustainable Materials Research & Technology, The University of New South Wales
LESSONS FROM FIRST NATIONS FIBRES – AUSTRALIA AND NZ Mon 23 May 12:30pm–2:00PM AEST
Torres Webb, Chair, CSIRO Office Of Indigenous Engagement
Weaving Together the Art and Science of Australian Natural Dyes. Stephanie Beaupark, PhD Candidate, Associate Lecturer, University of Wollongong
Harakeke (NZ flax) - Maori insights. Donna Campbell, Senior Lecturer, University of Waikato
The process and notion of naturally dyeing fabric. Katie West
First Nations Leadership, Rights, Self-determination & Sovereignty through circular economy. Felicity Chapman Owner - Deadly Weavers
Pitch Video Screening. Fibre Waste
REDESIGNING FIBRES SESSION Tue 24 May 10:30am–12:00PM AEST
Filomena Pettolino, Chair, CSIRO Agriculture and Food
Fibre to Fibre recycling cotton and blends. Dr Nolene Byrne, Associate Professor, Deakin University
Bolt Threads: A journey of sustainable fibers, leather, and personal care. Dr. David Breslauer, CTO & co-founder, Bolt Threads
Plant-generated next-gen fibres. Dr Xiaoqing Li, CSIRO Agriculture and Food
Algae as natural and man-made fibres. Professor Peter Ralph, Executive Director, Climate Change Cluster (C3), University of Technology Sydney
Pitch Video Screening. The Mozzie Cure
FIBRE THROUGH ITS LIFE Wed 25 May 10:30am–12:00PM AEST
Alice Payne, Chair, Queensland University of Technology
Fibre Tracing - wool case study. Mark Scott, Australian Wool Innovation
Clothing design for sustainability - considerations across the life cycle. Alison Gwilt, UNSW
Wool - Designed by Nature to close the loop. Sam Ropert, Australian Wool Innovation
Synbio and new functionalities for textiles. Laura Navone, Queensland University of Technology
The Wellbeing Wardrobe, Monique Retamal, University of Technology Sydney
Pitch Video Screening. Saving uniforms and repairing the system
FIBRE WASTE: DURING AND AT THE END OF ITS LIFE THUR 26 MAY 10:30am–12:00PM AEST
Stuart Gordon, Chair, CSIRO Agriculture and Food
From Dirt to Shirt and Beyond: Cotton's Circularity Story. Mary Ankeny, Cotton Incorporated
Waste: insights from Charitable Recyclers Australia. Omer Soker, CEO, Charitable Recycling Australia
How the industrial revolution, police and a pair of pants closed the loop in Goondiwindi. Oliver Knox, University of New England
Water-borne fibre waste: microplastics, pollution and more. Mark Browne, UNSW
The Case of Ghana, Lydia Manieson , QUT
Pitch Video Screening. Fibre Waste and how we can fix it
THREADS AND OPPORTUNITIES CLOSING KEYNOTES THUR 26 MAY AEST 2:00pm-2:45pm
Oliver Knox, Chair, University of New England
Circular Textiles Now to 2050. Professor Rebecca Earley, Co-Director, Centre for Circular Design, University of the Arts London
Pitchathon Winners - People's Choice + Summary. Dr Colin Scott, CSIRO Synthetic Biology Future Science Platform Director
Event Summation Keynote. Peter Riddles
Event Close.
HIGH RESOLUTION INTERACTIVE SESSIONS
RSVP-CAPPED and based on optional selections at time of registration
Redesigning fibres - Tue 24 May 12:30pm-1:30pm AEST
Fibre Through its Life – Wed 25 May 12:30-13:30 AEST
Fibre Waste: during and at the end of its life - Thur 26 May 12:30-13:30 AEST
Contact - threads2022@csiro.au
Circular fibres pitchathon
Open to high school, TAFE and university undergrads we are challenging the next generation of Australians to explore and invent circular fibres and textile solutions. In a 3 minute pitch video, we want to hear your ideas for:
Redesigning fibres
Lessons from First Nations
Tracking fibre lifecycles
Fibre waste
Applications open 15 March 2022, and close 2 May 2022 11:59 PM AEST Monday.
If you are entering the Pitchathon only, complete the Pitch Application Form – do not register for the event. Pitchathon participation is at no charge.
Pitchathon: Key information, please read first before starting the application to participate.
Organising Committee and Pitchathon Team: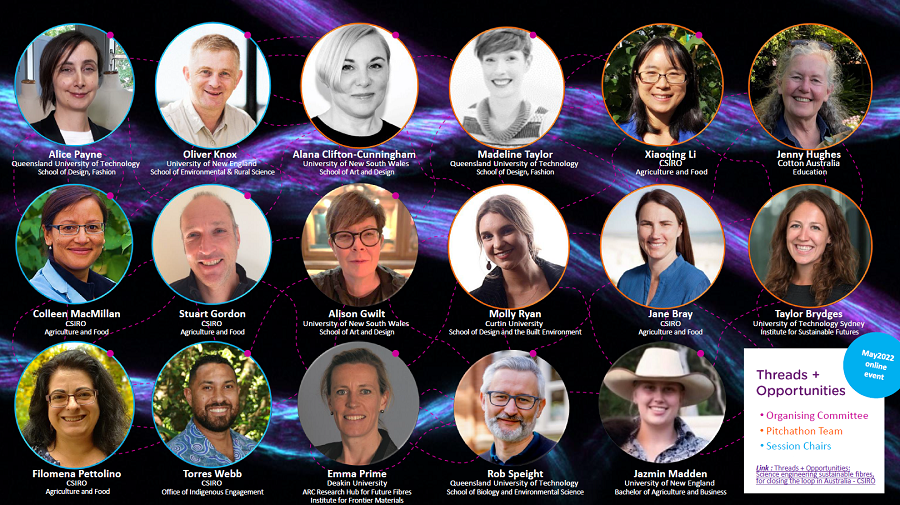 Partners:
Sponsor:
Organising contributors:

We would like to acknowledge and thank the following for generous contributions of time to the Symposium Organising Committee and the Symposium Pitchathon Team:
Commonwealth Scientific Industrial Research Organisation (CSIRO): Agriculture and Food Business Unit; Office of Indigenous Engagement; Office of the Chief Scientist
Cotton Australia: Education
Curtin University: School of Design and the Built Environment
Deakin University: ARC Research Hub for Future Fibres; Institute for Frontier Materials
Queensland University of Technology: School of Design; School of Biology and Environmental Science
University of New England: School of Environmental and Rural Science; Undergraduate - Bachelor of Agriculture and Business
University of New South Wales: School of Art and Design
University of Technology Sydney: Institute for Sustainable Futures
Find out more