Price
Free
Event date and time
Tuesday 7 Feb 2023
11.00am to 12.00pm AEDT
Location
Online virtual event
Event access link will be shared directly to registered attendees
Australia has established world-class quantum research capabilities and expertise over two decades via sustained research investment. We are now witnessing a growing number of quantum technology related businesses pursuing research and commercialisation efforts in Australia.
Join us for an exclusive event with Australia's Chief Scientist and CSIRO experts to discuss the potential of quantum technologies for our nation.
Dates and Times
Event date:

Feb 2023
Tuesday 7 Feb 2023
Online virtual event
11.00am to 12.00pm AEDT
Event access link will be shared directly to registered attendees
Contact
More information
Quantum physics has enabled transformational new technologies like laser, silicon chips in computers, and magnetic resonance imaging. Now, with science and engineering advancing unabated, we have the ability to isolate, manipulate and measure individual quantum particles (such as electrons and photons) with unprecedented control.
Quantum technology is predicted to be a $6 billion industry in Australia by 2045 and has the potential to create thousands of jobs and economic opportunities for the nation.
The event will bring together experts to demystify what quantum is for leaders across government and business, where they will discuss:
An overview of the quantum opportunity for Australia
What quantum is, drivers for adoption and how we can start to build a quantum economy
Australian innovation in this space, highlighting CSIRO research and insights from across the ecosystem
Ways science and industry can come together to accelerate the commercialisation of quantum technologies and innovation in Australia
Meet the panel:
Dr Cathy Foley, Australia's Chief Scientist
Professor Elanor Huntington, Executive Director, CSIRO
Professor Jim Rabeau, Quantum Future Science Platform Leader, CSIRO
Dr Vikram Sharma, Founder and CEO, QuintessenceLabs
Panel bios: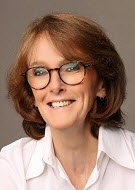 Dr Cathy Foley AO PSM became Australia's ninth Chief Scientist in January 2021 after an extensive career at Australia's national science agency, the CSIRO, including as the agency's Chief Scientist.
Dr Foley is an internationally recognised physicist with major research achievements in superconductors and sensors which lead to the development of the LANDTEM sensor system to locate valuable deposits of minerals deep underground.
Dr Foley's scientific excellence and influential leadership have been recognised with numerous awards and fellowships, including election to the Australian Academy of Science in 2020, and an Order of Australia for service to research science and to the advancement of women in physics. She received the Australian Institute of Physics Medal for Outstanding Service to Physics in 2016. She is a Fellow of Australian Academy of Technological Science and Engineering (2008) and an honorary Fellow of the Australian Institute of Physics (2019).
Dr Foley is an inspiration to women in STEM across the globe and focused strongly on equality and diversity in the science sector.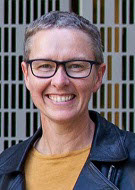 Elanor Huntington, Executive Director, Digital National Facilities and Collections
Professor Huntington leads the data-focused research, development, and digital capability of CSIRO, and is a member of the Executive Team. She has stewardship of a range of business lines including Data61, Space and Astronomy, and National Collections and Marine Infrastructure. Prof Huntington also leads major national infrastructure provided by CSIRO on behalf of the scientific community to assist with the delivery of research. Prior to joining CSIRO in November 2021, Elanor was Dean of the College of Engineering and Computer Science at the Australian National University (ANU) where she helped bring about significant transformation within the College and sector.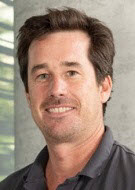 Professor Jim Rabeau, Quantum Technologies Future Science Platform Leader
James (Jim) Rabeau leads the Quantum Technologies Future Science Platform, a CSIRO-wide initiative to establish and grow new capability in the cutting edge field of quantum technology.
Jim has a background in both academia and industry, including most recently as a Professor in Physics and Deputy Director at the Sydney Nano Institute at the University of Sydney. Prior to that, Jim was Principal Program Manager at Microsoft Quantum based in Sydney and also worked at Deloitte as a consultant.
Jim's research interests have had many common elements, including one particularly special element: carbon... in the form of diamond.
His research has ranged from the fabrication and characterisation of diamond grown by chemical vapour deposition in a microwave plasma to the use of nanodiamond particles containing single-atom impurities as quantum sensors. Jim retains an Honourary Professor position at the University of Sydney where he continues to collaborate on quantum-related research projects.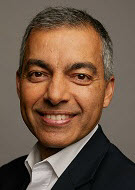 Dr Vikram Sharma, Founder and CEO, QuintessenceLabs
With the power of quantum technology, Vikram Sharma and his company QuintessenceLabs are transforming cybersecurity to safeguard our digital lives.
Recognising the potential of quantum cybersecurity, Vikram Sharma founded and leads Australian-headquartered QuintessenceLabs, which is at the forefront of the global quantum cybersecurity industry. The company's capabilities have received numerous recognitions - including being named Global Innovator by the World Economic Forum. Vikram holds a Master of Science in computer science from the ANU, a Master of Science in management (Sloan Fellow) from Stanford University, and a Doctorate in quantum physics from ANU. Vikram is the recipient of the 2013 Pearcey State Award for Entrepreneurship, the 2021 American Chamber Alliance Award for Quantum and the 2022 Business Innovation Group Innovator Award. He serves on several industry boards and is a member of the World Economic Forum Global Future Council on Cybersecurity, the Wall Street Journal CEO Council, and the Forbes Technology Council. He is also a member of the Australian National Quantum Advisory Committee and founding co-chair of the Australian Quantum Alliance.
Vikram's TED Talk on "How Quantum Physics can make Encryption Stronger", has had more than 1 million views.