Price
Free
Event date and time
Thursday 18 Aug 2022
1.00pm to 2.00pm AEST
Location
Online virtual event
Login details will be emailed to registrants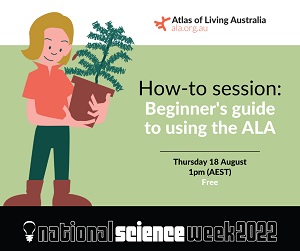 For National Science Week, we're celebrating all things STEM! As Australia's national biodiversity database, the Atlas of Living Australia aggregates biodiversity data and stores them in a way that is open and accessible. But what does this actually mean, and what can you use the ALA for? Find out in this interactive workshop!
Follow along with Jenna, our ALA Training and Outreach Coordinator, as she shares tips and tricks for getting the most out of the ALA. We'll cover how to look up information about your favourite species, how to find out which species have been recorded in your local area, plus much more! Beginner friendly.
Dates and Times
Event date:

Aug 2022
Thursday 18 Aug 2022
Online virtual event
1.00pm to 2.00pm AEST
Login details will be emailed to registrants
Contact
More information
Event host:
Dr Jenna Wraith | Atlas of Living Australia
Jenna is a conservation scientist with a PhD in Plant Ecology. She is currently the Training and Outreach Coordinator for the ALA and uses her skills in science communication to develop and deliver exciting training materials and workshops. Jenna is a strong advocate for diversity and inclusion in STEMM fields.