Price
Free
Event date and time
Thursday 15 Jul 2021
12:00pm to 1:00pm AEST
Location
Virtual webinar
Event access link will be shared directly to registered attendees
Business leaders are invited to join us for a virtual session to hear examples of transformative ways we're working with industry.
For over a century, CSIRO, as Australia's national science agency, has worked with organisations large and small to help solve problems, develop new, cutting-edge technologies, or utilise breakthrough science to create real-world solutions which can help organisations generate new impact from their activities. We work closely with industry, government, universities, and research institutes to support all stages of the innovation lifecycle, to support identifying and driving new impact opportunities – and outcomes - for Australian industry.
This July, as part of our Conversation series, we're bringing together some of the best and brightest minds from across CSIRO to share their experiences of working with industry in areas like:
Identifying, developing, and implementing bespoke solutions as a true innovation partner
Partnering across the supply chain to solve industry problems
Acting as a portfolio research partner
Testing services
National crises response including COVID-19 and bushfires
Speakers:
Ms Liza Noonan, Executive Manager, Global
Mr Vivek Srinivasan, Associate Director, CSIRO Futures
Dr Ilana Feain, Commercialisation Specialist (Space & Astronomy), CSIRO
Mr Greg Bland, Strategic Accounts Manager (Commercial), CSIRO
Mr Rajiv Cabraal, Commercialisation Manager (Digital & Deep Tech), CSIRO
Dates and Times
Event date:

Jul 2021
Thursday 15 Jul 2021
Virtual webinar
12:00pm to 1:00pm AEST
Event access link will be shared directly to registered attendees
More information
Meet the Panel
Liza Noonan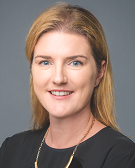 Liza Noonan is the Global Director for CSIRO, Australia's national science agency. In this role Liza is responsible for identifying and implementing global partnerships to support CSIRO's purpose of solving the world's greatest challenges with science and technology.
Before this Liza was CSIRO's ASEAN Director and Science & Technology Counsellor in Singapore where she led a growing portfolio of science and commercial collaborations across the region spanning data science, advanced manufacturing, agriculture & food, health, and sustainability.
Prior to this role Liza was the Executive Manager of Innovation at the CSIRO and led the founding team of the ON Accelerator- Australia's first national science & technology accelerator supporting public funded research achieve real world impact faster.
Liza has extensive experience in innovation and technology –having been CEO of Springboard Enterprises Australia - a venture backer of female founded business; head of Solutions and Marketing for Nokia in Australia and Innovation Practice lead for Alcatel-Lucent in EMEA.
Liza is currently on the Gender Advisory Panel for Accelerating Asia, has been Non-Executive Vice President for the Australian Chamber of Commerce Singapore, has sat on the Executive Council for the IoT Alliance Australia, has served as a non-executive director for the Canberra Innovation Network and is currently an Australian national Innovation Awards judge.
Liza holds a Bachelor of Economics from the University of New South Wales and is a Graduate of the Australian Institute of Company Directors.
Vivek Srinivasan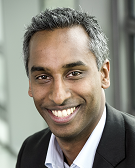 Vivek is an Associate Director in CSIRO Futures and specialises in complex national and industry challenges and the role that science and technology can play in addressing them. His work has spanned the development of disruptive scenarios to help organisations address future opportunities and risks to the creation of industry roadmaps to unlocking future growth opportunities for Australia.
Vivek has deep experience in the hydrogen industry and has led tailored hydrogen analysis, technology scans and techno-economic modelling for government and industry customers. He previously led the delivery of the Australian National Outlook 2019 which explores economic, environmental, and social outcomes to 2060, drawing on CSIRO's research and integrated modelling framework and input from over 50 business and non-government leaders.
Working in collaboration with a range of public and private organisations, Vivek is currently leading CSIRO's CO2 Utilisation Roadmap exploring how carbon dioxide could be used for commercial applications to support emissions reductions and industry growth.
Dr Ilana Feain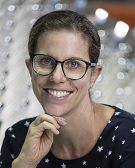 Dr Ilana Feain (PhD) is an interdisciplinary academic entrepreneur spanning pure and applied signal processing, big science project management, deep technology commercialisation and related technology development. Her rare combination of astrophysics, medtech, space tech, signal processing and corporate skills that enables defensible opportunities from scientific and engineering innovations.
Dr Feain is currently the Commercialisation Specialist inside CSIRO's Space and Astronomy business unit and most recently led the spinout of Quasar Satellite Technologies from their technologies group. Prior to that, she was the founder and CEO of Leo Cancer Care (formerly Nano-X), and has held numerous other research, academic and science project management positions in medical physics and radio astronomy.
Dr Feain is a past L'Oreal For Women in Science Fellow, CSIRO Ruby Payne Scott Fellow, a recipient of the CSIRO Chairman's Medal (team) and has been successful in both the NSW Medical Devices and NSW Physical Sciences Funding schemes to support her commercialisation activities.
Greg Bland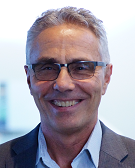 Greg Bland is responsible for CSIRO's Strategic Relationships with some of our major commercial customers. This role sees Greg working closely with those customers and their partners to align investments and deliver commercially deployable solutions that create opportunity for new Australian industry and national and global impact in our role as Australia's national science agency.
Greg specialises in an operating model known as 'Collaborative innovation' as a service. This model is an end-to-end innovation system that can help deliver consistent commercial outcomes by enabling organisations to systematically find and exploit applicable national capability to solve business problems that create new market opportunities and alternate revenue streams to drive growth. The multi-phase model is a co-designed with customers to achieve alignment with existing business practices and assist in a cultural change that provides permission to boldly look at deep tech future business growth strategies.
Prior to joining CSIRO in 2014, Greg had a diverse career supporting companies spanning multiple industries in the adoption of numerical analysis and simulation technologies across a range of domains. This built upon a consulting engineering background within the commercial construction industry.
Rajiv Cabraal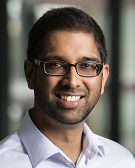 Rajiv's focus is on commercialising CSIRO's digital and deep-tech research, and helping to translate research results from the lab into products & services that deliver real world benefits. Rajiv works with researchers, investors, and other partners to develop and create new opportunities for start-ups, licenses, and other collaborative ventures.
Rajiv has over 20 years of commercial, legal, and leadership experience, with extensive experience in commercialisation, licensing and spin-outs, complex collaborations, joint ventures, alliances, and the establishment of major research centres and infrastructure. Rajiv was previously the Commercialisation, Legal & IP Director for CSIRO's Data61. Rajiv has been recognised as one of Australia's leading technology lawyers, and regularly speaks and mentor others on innovation, commercialisation, and digital disruption.