Price
Free
Event date and time
Thursday 20 Aug 2020
7.30pm to 8.30pm AEST
Location
Online virtual event
Webcast login details will be emailed to registrants
Ever wanted to travel on a 13.8 billion-year journey through the Universe? The first step is as easy as joining us here at CSIRO, for a one-hour live fun-filled event.
Revealing the Universe like never before requires new ways of exploration. Together with our international partners, we're building the SKA in Australia and South Africa. Over the next 50 years, the SKA will be uncovering the Universe in unprecedented detail.
Engineered by 15 nations, in five continents, the SKA will be the first global mega-science project to be hosted by Australia. It promises to have a profound impact on our lives, and you're invited to join us in exploring what this looks like, now and into the future.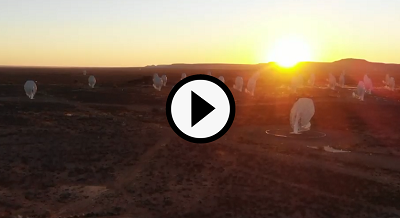 Click to play the video: The SKA - a new observatory to explore the Universe
What secrets might we learn about the Universe thanks to the SKA?
How will its cutting-edge technology and software find its way into our everyday lives?
How will it inspire a new generation?
What technological innovations and scientific discoveries can we expect?
What's happening now, in the lead-up to SKA construction, at CSIRO's Murchison Radio-astronomy Observatory?
Australia's very own Astronomer-at-large, Professor Fred Watson, joins a stellar line-up of experts; Ms Mia Walker, Dr Vanessa Moss, and Professor Carole Jackson, for this National Science Week event. Hosted by Entertainer and Science Communicator, Mr Chris Krishna-Pillay, we're definitely in for some fun - Chris has promised to share his very own unique musical-take on the SKA!
Please join our panel in this free and live interactive webcast to discuss Australia's biggest science project.
Dates and Times
Event date:

Aug 2020
Thursday 20 Aug 2020
Online virtual event
7.30pm to 8.30pm AEST
Webcast login details will be emailed to registrants
More information
On the night, each speaker will give a 5-minute presentation, followed by a Q&A session with the audience.
Chris Krishna-Pillay, Science Communicator and Performer, CSIRO
Chris Krishna-Pillay is one of Australia's most experienced science communicators and performers. His writing and performing credits include, Howard Florey - a Tale of Tall Poppies, Somnium, Dante's Laboratory and science-inspired rock band Ologism. He also directed Faraday's Candle. Chris has performed across Australia, as well as in the UK, Ireland, New Zealand and Japan.
Chris has appeared on television on Outrageous Acts of Science, Scope and Totally Wild. He is also a regular panellist on popular Triple R radio program Einstein A Go Go and was science consultant for children's television series Wicked Science.
Chris has worked at CSIRO for more than 25 years in education, community outreach and staff engagement.
Mia Walker, MWA Program Manager, Curtin University
Mia Walker is Program Manager for the Murchison Widefield Array (MWA) radio telescope. She grew up in Geraldton, Western Australia, and still identifies as a country bumpkin. Armed with some good grades and a slapdash aspiration to work in the space industry, she moved to the big city (Perth) and completed a double degree in Electronics and Communications Engineering and Physics at Curtin University. She now works on a precursor instrument to the global SKA project, dabbles in art, and watches reruns of Red Dwarf.
Dr Vanessa Moss, Head of ASKAP Science Operations, CSIRO
Dr Vanessa Moss is a radio astronomer based at CSIRO Astronomy and Space Science, working at the boundaries between astronomy, telescope operations and data science. She oversees science operations for the groundbreaking Australian Square Kilometre Array Pathfinder (ASKAP) telescope, managing astronomical observations from specification to the arrival of the data at the Pawsey Supercomputing Centre. In her astronomy research, she has studied phenomena across the universe, from the hidden structure of the Milky Way halo to dense gas casting shadows against distant black holes. Vanessa has a keen interest in data visualisation, automation, science communication and technology, and is chairing an upcoming CSIRO symposium on "The Future of Meetings", which will be an entirely virtual cross-disciplinary conference.
Professor Carole Jackson, Director General, ASTRON, The Netherlands
Professor Carole Jackson is the British/Australian Director General of ASTRON, the Netherlands Institute for Radio Astronomy based at Dwingeloo in the Netherlands. Carole is an expert in extragalactic radio astronomy and technology research management, gained from working in commerce, industry and the research sectors through her long career. Whilst working for CSIRO Astronomy and Space Science (2003-2013), Carole led the design and delivery of the 36 antennas forming the core part of ASKAP (the Australian SKA pathfinder) telescope. Carole has a long association with the International Square Kilometre Array (SKA) project where she has worked closely with the Australian, and more recently, Dutch, Governments to guide their business cases towards investing in the SKA.
Professor Fred Watson, Australia's Astronomer at large, DISER
Professor Fred Watson is Australia's first Astronomer-at-Large, an advocacy role within the Commonwealth Department of Industry, Science, Energy and Resources. He is a graduate of the universities of St Andrews and Edinburgh, and worked at both of Britain's Royal Observatories before joining the Australian Astronomical Observatory as Astronomer-in-Charge in 1995. Fred is best known today for his award-winning radio and TV broadcasts, podcasts, books, music and dark-sky advocacy. He holds adjunct professorships in several Australian universities, and was made a Member of the Order of Australia in 2010. He has an asteroid named after him (5691 Fredwatson), but says that if it hits the Earth, it won't be his fault.
Agenda
7:30pm (AEST)
Welcome and acknowledgement of traditional landowners
7:35 - 8:05
Presentations
8:05 - 8:28
Live interactive Q&A
8:28 - 8:30
Closing remarks
Partners